Pastimes
This comedy by Brian Jeffries exploits the talents of its five-strong cast to the full: it features a pair of cafe owners called Sam and Bill, who might appear to be as camp as the proverbial row of tents but are not all that they appear to be.
When the pair offer temporary accommodation to a cheeky youngster called Linda the scene is set for a series of revelations which threaten to turn their world of quiet domesticity and nightly Ludo games upside down.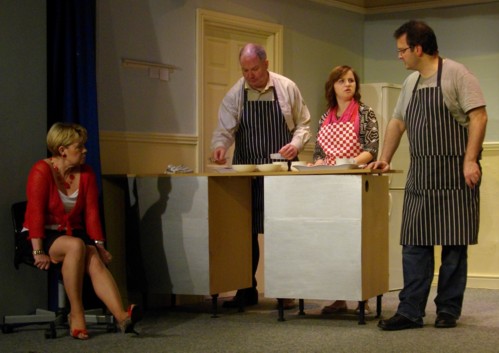 Rehearsal for Pastimes (kitchen not quite finished!)

More photos from Pastimes - click here
Curtain Up!
Based on the author Peter Quilter's earlier Respecting Your Piers, Curtain Up! is the hilarious story of five women who inherit equal shares in a dilapidated theatre and plan to bring it back to life again. They try various fund-raising schemes but their most ambitious is to hold a concert featuring local talent and a world-famous star, who agrees to appear for no fee! However, their plans go awry and it's a race to keep their audience from guessing the truth of the matter. A fast-paced and very funny comedy with five great roles for women.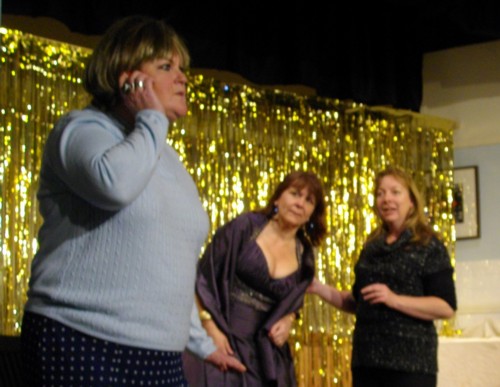 Rehearsal for Curtain Up!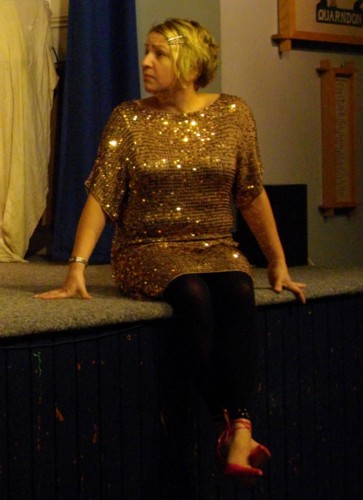 Rehearsal for Curtain Up!