QUADS May 2015 production was
the light-hearted comedy drama:
"The Garden Party"
by Jimmie Chinn & Hazel Whyld

Quarndon Village Hall, 122 Church Road
Quarndon Derby DE22 5JA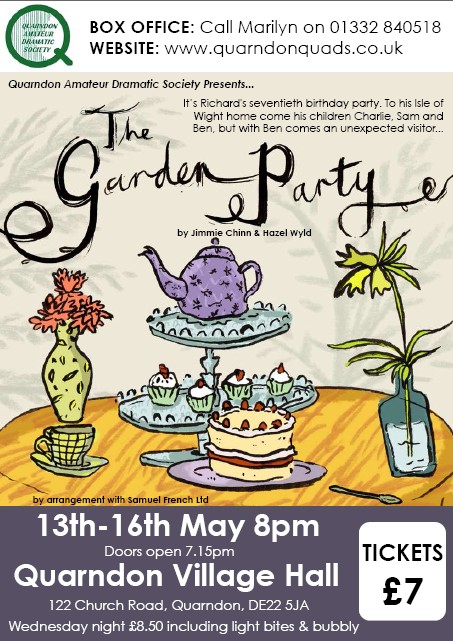 The Garden Party focuses on family relationships. It is Richard's seventieth birthday. To his Isle of Wight home come his children - Sam, unhappily married, and bringing her autistic son, Miles; Charlie, a discontented alcoholic with numerous chips on his shoulder; and Ben, whose generosity and sense of fun draw attention away from a mystery at the heart of his life. With Ben arrives Brice, an expected addition to the party and, in some quarters, an unwelcome one: for Brice was the first husband of Richard's wife, Jan, and is the real father to her children. The scene is set for a day and a night of revelations, arguments and moments of tenderness as the family seeks to resolve its difficulties and to put the past behind all of its members.

Jimmie Chinn became successful as a playwright, determined to make a something of himself, after a difficult start in life. He was drawn to theatre and acted with amateur theatre groups in Lancashire, eventually deciding to become professional. He won a place at RaDa, but failing to get work, he decided to switch to teaching. He could keep a group of students mesmerised with his wonderfully funny stories of his life with his mother back in Lancashire and he drew upon this background when he began to write plays for radio and for theatre. The plays were published with amateur theatres in mind, but their quality brought them to the attention of commercial managements.
His first major success was Straight and Narrow, which was drawn from his experience with his mother and was a success at Wyndham's Theatre in 1992. Jimmie's mother might have been considered larger than life but he insisted that all of the outrageous events were absolutely true.
His plays are warm and amusing although there are human tragedies in some and it was inevitable that his work attracted the attention of BBC and ITV companies and he was recruited to write for the major long running soaps. He contributed to Coronation Street and Emmerdale while continuing to write for the stage. He was diagnosed with emphysema and this debilitating lung condition caused his death from pneumonia on 1st February 2011.

Co-author Hazel Whyld is a playwright, foster carer of 166 babies over a long period, ex-actress, mother of six, grandmother of 23 and currently lives on the
isle of Wight.