Visit QUADS on Facebook:
QUADS: Quarndon Amateur Dramatic Society
QUADS has been performing plays in Quarndon Village Hall next to St Paul's Church, Quarndon, near Derby, since the end of the Second World War. It is a very friendly society which puts on two plays a year, in May and November, plus social and fundraising events throughout the year. We welcome new members from all over Derby and the surrounding area.
If you would like to join us or go on the mailing list to be kept informed about future productions or auditions , please contact the secretary, Sharon Hawkins , on 07732 744 133 or email info@quarndonquads.co.uk. Further details on the Auditions/New Members page.
QUADS current production is
the whodunnit:
"Prescription for Murder"
by Norman Robbins
Weds 18th - Sat 21st November 2015
(7.45pm curtain up, doors open 7.15pm)
Quarndon Village Hall, 122 Church Road
Quarndon Derby DE22 5JA
Box Office: phone for tickets on 07887 525 112
or email tickets@quarndonquads.co.uk
Tickets £7 (Weds & Sat: £8.50 including light bites and bubbly)
Allocated seating (Thurs/Friday), disabled access/parking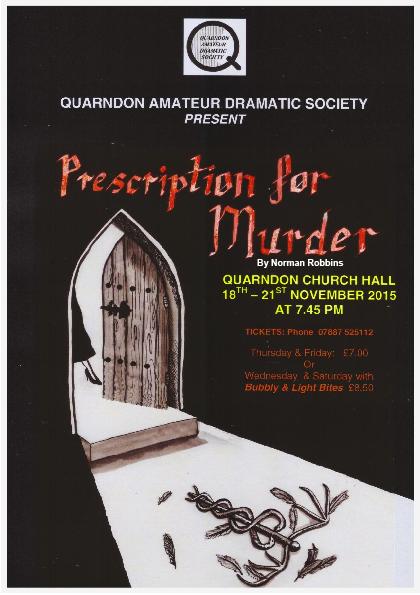 Quick Tour of the Website
Newsletter: Details/dates of the next production and forthcoming social events...
Auditions/New members: information for anyone thinking of getting involved in amateur dramatics, either onstage or backstage
Past productions: play summaries, cast profiles and reviews of the recent productions, The Garden Party, Crown Matrimonial, Curtain Up on Murder, Pack of Lies, Glorious! Steel Magnolias, Improbable Fiction, The Day After The Fair, Come On Jeeves, The Scottish Play, Quartet: 4 One-Act plays, Pastimes & Curtain Up! Double Bill, Amy's View, Relatively Speaking, My Cousin Rachel, Blithe Spirit, Blood Money and The Little Photographer, plus an archive of older programmes and cast lists back to 1994.
History: photo of the QUADS golden and 70th anniversary celebrations and a personal account of the origin of QUADS as a musical society in 1941
Friends of QUADS: a letter from the Chairman to our supporters
Contact Us: Chairman, Secretary, Treasurer, etc phone numbers and email addresses
Links: Sites which list our contact details or advertise our events